Edisto Beach Oceanfront Vacation Rentals
Is there anything better than falling asleep to the relaxing sound of gentle waves breaking on the shore? Make your next beach getaway extra-memorable by treating yourself and your family/friends to an oceanfront vacation rental in Edisto Beach!
With our oceanfront beach houses and condos situated just steps from the sand, your walk to the beach will consist simply of opening your front door! We have beachfront rentals to suit all tastes and budgets, with plenty of pet-friendly rental options too. Contact us today and we'll help you find the perfect oceanfront Edisto Beach vacation home or condo to suit your needs!
---
One of Edisto's Best, Sulla Sabbia is a beachfront, private home, within walking distance of the restaurants and shopping found as you first enter the town of Edisto Beach. It doesn't get much better than this, just step outside and enjoy the beach! This property is immediately adjacent to access 1a. Views of the ocean are on full display immedi
Private Home -
Edisto Island
One of Edisto's Best! Recently renovated with gorgeous updates, Barefoot Bungalow is a 4 bedroom elevated private home and can accommodate up to 10 guests with ease! Private off street parking is provided and the lot sits oceanfront so you will be sitting front row to the amazing beach views! The back deck is the perfect spot to lounge and watch th
Private Home -
Edisto Island -
One of Edisto's Best! Selah on the Sound is a beachfront, elevated, private home featuring 3 bedrooms and 2 bathrooms with views of the Sound. This home is tucked away among mature foliage, and has undergone a full renovation, which was completed at the start of 2022. Comfortably accommodating up to 8 guests, this home is perfect for 2 couples wi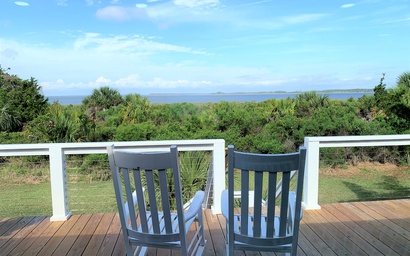 Private Home -
Edisto Island -
---